TICKETS: The Wake (Support: Sweet Ermengarde + Afterparty) // 07.11. // Urban Spree
€

19.99
Sold out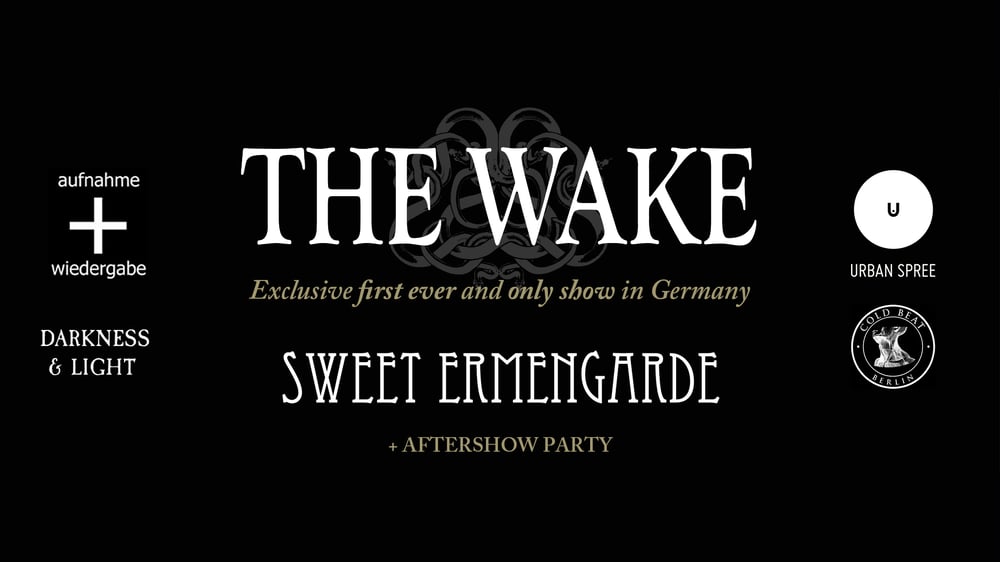 November 07
9pm
Urban Spree
The Wake live
www.thewake.com
Exclusive and only Germany debut show
Sweet Ermengarde live
www.sweet-ermengarde.de
First show in Berlin since 2018
AFTERSHOW feat. DJs:
Philipp Strobel (aufnahme + wiedergabe / DEATH # DISCO)
Jürgen Jakob (Cold Beat Berlin / Ex-Strobelight Records)
Thomas Thyssen (Pagan Love Songs / Darkness & Light)
Doors: 9pm – Start: 10pm – Aftershow: approx. 0:30am
STRICTLY LIMITED TO 200 TICKETS ONLY!
FIRST COME, FIRST SERVE!
TICKET SALE STARTS ON MONDAY, FEBRUARY 24, 4pm
For the first time ever, in their more than 30 years spanning band history, legendary US Gothic Rock band THE WAKE will play their exclusive Germany debut in Berlin. Do not miss out on this once in a lifetime chance to witness classics and eternal hits such as "Nazarene", "Watchtower", "Sideshow", "Masked", "Harlot", "Christine", and "Silent Siren" performed life on Saturday, November 7th, 2020 at Urban Spree.
SWEET ERMENGARDE proved to be one of the most promising up and coming Gothic Rock acts in all of Europe of the past decade. In 2020, after a two years hiatus since their last show, the four-piece returns to Berlin in order to not only perform their smashers like "A Promise To Fulfill" or "Necropolitan Rest", but also to give a glimpse of brand-new material. This will be their first live gig in the capital since 2018.
Zum allerersten Mal in ihrer nunmehr über dreißigjährigen Karriere wird die amerikanische Gothic Rock-Legende THE WAKE für ein einziges Deutschland-Konzert nach Berlin kommen. Diese einmalige Chance, ewige Klassiker und unkaputtbare Hits wie "Nazarene", "Watchtower", "Sideshow", "Masked", "Harlot", "Christine" und "Silent Siren" live on stage mitzuerleben, sollte man sich nicht entgehen lassen.
SWEET ERMENGARDE haben sich in der letzten Dekade eindrucksvoll als eine der hoffnungsvollsten und aussichtsreichsten Gothic Rock-Bands des 21. Jahrhunderts eine exzellente Reputation international erarbeitet. Nach einer mittlerweile zweijährigen Pause kehrt das Quartett nun endlich für sein erstes Live-Gastspiel in der Hauptstadt seit 2018 zurück. Mit im Gepäck wird die Bochumer Band nicht nur Szene-Hits wie "A Promise To Fulfill" und "Necropolitan Rest" haben, sondern auch brandneues Songmaterial darbieten.
Urban Spree (RAW-Area)
Revaler Str. 99/Warschauer Str.
10245 Berlin
www.urbanspree.com
www.facebook.com/urbanspree
Facebook Event: www.facebook.com/events/483596229006317
PLEASE READ | BITTE LESEN:
1.
We do NOT ship hard tickets by post.
Wir versenden KEINE Tickets per Post
2.
The Big Cartel order confirmation or Paypal payment receipt is your ticket. You can print it out or just show it at the door on your smartphone. Your name and the amount of tickets you've ordered is on a list there
Die Bestellbestätigung von Big Cartel oder der Paypal-Zahlungsbeleg ist dein Ticket. Du kannst sie ausdrucken oder einfach an der Kasse auf dem Smartphone vorzeigen. Dein Name und die Anzahl der bestellten Tickets sind dort auf einer Liste vermerkt
3.
Minimum age for admission 18 years
Einlass ab 18 Jahren